Top Highest Team Score in IPL History
Top Highest Team Score in IPL History: There have been some incredible displays of batting power in the Indian Premier League (IPL), which is known for its thrilling sport. The players' capacity to accumulate significant scores is one of the IPL's distinguishing characteristics. The top three highest runs in an IPL match are examined in this article.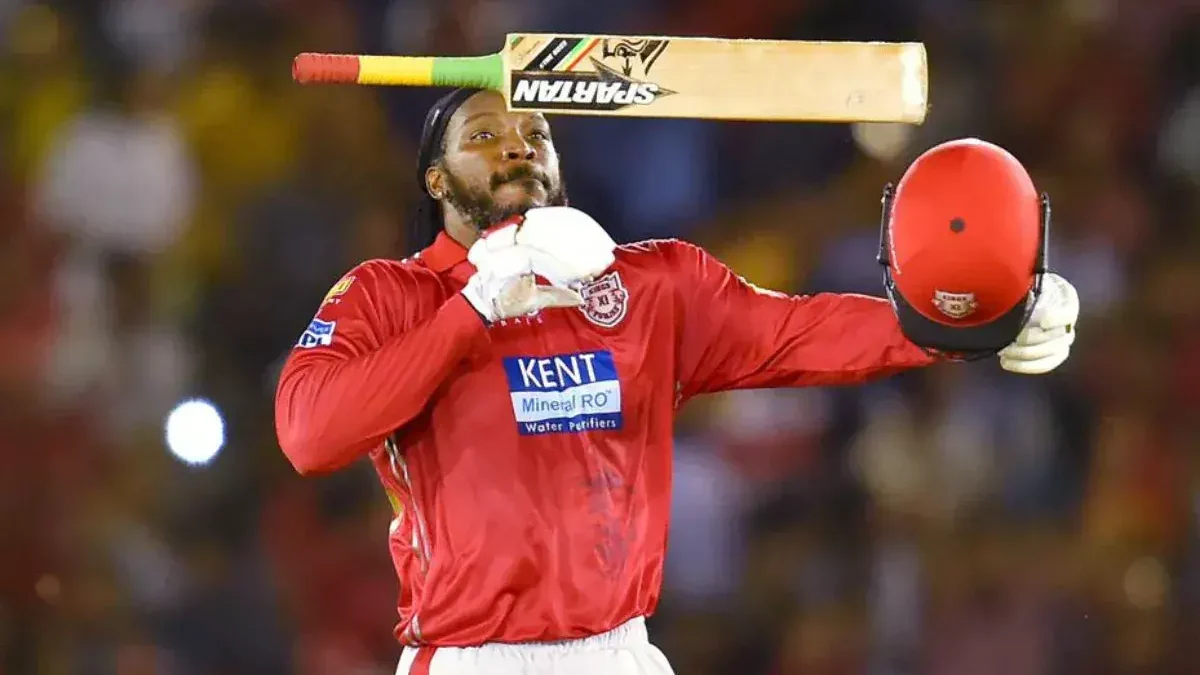 Top Highest Team Score in IPL History
| Team | Score | RR | Match Date |
| --- | --- | --- | --- |
| RCB | 263/5 | 13.15 | 23 Apr 2013 |
| RCB | 248/3 | 12.4 | 14 May 2016 |
| Super Kings | 246/5 | 12.3 | 3 Apr 2010 |
| KKR | 245/6 | 12.25 | 12 May 2018 |
| Super Kings | 240/5 | 12 | 19 Apr 2008 |
| RCB | 235/1 | 11.75 | 10 May 2015 |
| Mumbai | 235/9 | 11.75 | 8 Oct 2021 |
| Kings XI | 232/2 | 11.6 | 17 May 2011 |
| KKR | 232/2 | 11.6 | 28 Apr 2019 |
| Daredevils | 231/4 | 11.55 | 23 Apr 2011 |
Top Highest Team Score in IPL History
1. RCB – 263/5 vs Pune Warriors India
Chris Gayle put up an outstanding effort in the 2013 IPL match between Royal Challengers Bangalore and Pune Warriors India, setting a new record for the greatest individual score in T20 and IPL cricket. After smashing an undefeated 175 runs off just 66 balls, Gayle single-handedly destroyed Pune Warriors India's bowling attack. His performance, which set a record for the fastest century in IPL history, had an astounding 13 fours and 17 sixes.
AB de Villiers, another RCB stalwart, played a vital role in the team's mammoth score by scoring 31 runs off just 8 balls. The Gayle-De Villiers partnership was responsible for scoring 114 runs in the last five overs of the innings, an incredible feat that left Pune Warriors India in complete disarray.
2. RCB – 248/3 vs Gujarat Lions
In a match against the Gujarat Lions during the 2016 IPL season, Royal Challengers Bangalore's star players Virat Kohli and AB de Villiers showcased their prowess in T20 cricket. The team's captain, Kohli, and de Villiers put together an unbreakable 229-run partnership for the second wicket. The Gujarat Lions' bowlers were absolutely destroyed by the duo's outstanding batting performance since they were unable to stop them.
In his 109-run knock off just 55 balls, Kohli's innings was the epitome of timing, power, and placement as he hit five fours and eight sixes. De Villiers, meanwhile, displayed his trademark originality and flair in scoring an undefeated 129 runs off just 55 balls, including 10 fours and 12 sixes. Together, they helped the RCB team reach the second-highest total in IPL history—248/3—in their allotted 20 overs.
One of the most illustrious innings in IPL history is considered to have been played by the Kohli-de Villiers combo, which was a batting masterclass. The Gujarat Lions' innings was over with a score of 104/10 as they failed to respond to the RCB team's barrage of runs in the batting department. The RCB team easily won by a staggering 144 runs, so the outcome of the game was predetermined.
Mumbai Indians unveil their first-ever WPL jersey
3. CSK – 246/5 vs Rajasthan Royals
Chennai Super Kings' supremacy was on full display versus Rajasthan Royals during the 2010 IPL season. Indian opener Murali Vijay, who scored an undefeated 127 runs off just 56 deliveries and hit 11 fours and 8 sixes, was in a league of his own. The rest of the Chennai Super Kings team rallied around him, putting up a massive total of 246/5 in their 20 overs the third-highest runs in an IPL match by chipping in with important runs.
Rajasthan Royals' innings ended with a score of 224/6 despite Naman Ojha's stunning 94 off 55 balls and Shane Watson's lightning-quick 60 off 25 balls. Chennai could not be matched in total. The bowlers for Chennai were successful in limiting the Rajasthan Royals' batting lineup, leading to the team's easy 22-run victory. This match was one of the highest-scoring games in IPL history with a total of 470 runs scored.
The way Chennai Super Kings played in this game demonstrated their capacity to score substantial sums, with Murali Vijay taking the lead. His IPL innings, which displays his talent and tenacity, is regarded as one of the best ever. Due to the fact that both teams scored more than 200 runs in their innings, this game also demonstrated how crucial a solid batting lineup is in the T20 format.
Top Highest Team Score in IPL History